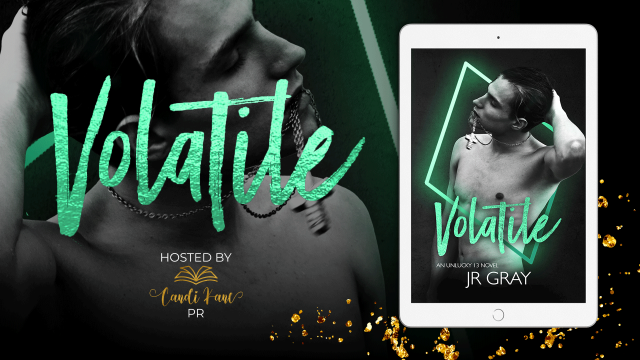 VOLATILE BY J.R. GRAY
Release Dates: July 25th
Genre/Tropes:
Bi awakening / Friends to lovers / Sexually charged forced proximity / Rock star / Angry Sex / So much sexual tension.
Series:
Standalone part of Unlucky 13 Multi-author series
📚 Exciting Release! 📚
🔥 Get ready for a sizzling and emotional journey in Volatile by JR Gray, Part of the Unlucky 13 Multi author series.
This book takes you to Black Diamond Resort and Spa where two childhood friends navigate a complex relationship.
💕 Don't miss this captivating romance that'll keep you on the edge of your seat!
Grab your copy now:
Add to your TBR:
BLURB:
Welcome to Black Diamond Resort and Spa… and my exile…
A guy in a skirt wouldn't turn a straight guy on, right?
I spent the last decade performing next to him.
I've never looked at him as more—until I walked in on him in a skirt.
He's as broken as I am. We survived our childhood together. And when he's finally trying to embrace the parts his father tried to beat out of him, I can't handle it.
He's taunting me with smeared eye-liner and a filthy smile, singing to a sold-out crowd, and it's getting too hot under these stage lights.
I can't look him in the eyes.
I can't be with him—not like that—but I can't stop thinking about him.
He's pushing me over the edge.
Now we're banished to this forsaken celebrity timeout—to play emotional chicken—and he's determined to make sure I lose.
He'll push every button I possess until I give in.