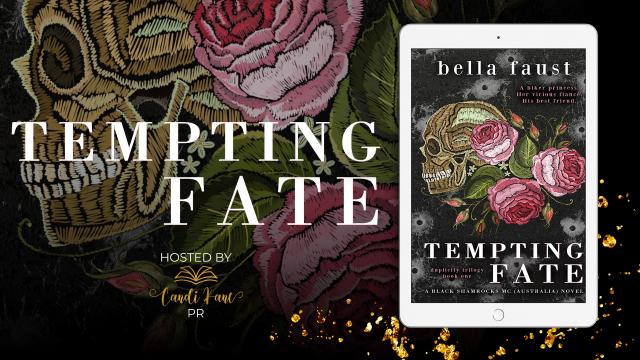 TEMPTING FATE BY BELLA FAUST
Release date
: March 23, 2023
Series:
Black Shamrocks MC: Australia Trilogy, book #1
Tropes
: Dark romance / angsty / love triangle
📚
Dive into the captivating world of Tempting Fate!
In this dark, psychological romance, Lilianna Mayberry's past comes back to haunt her, turning her life upside down. With a love triangle, betrayal, and a motorcycle club at the center, this steamy and taboo tale will keep you on the edge of your seat.
Don't miss out on this addictive read!
Tempting Fate, the first book of the Black Shamrocks MC: Australia Trilogy, by Bella Faust is NOW LIVE!!
Grab your copy TODAY!!
The standalone prequel, Craving Control, is banned from Amazon, apple books, and draft2digital, but you can get it for free by subscribing to FAUST 411 subscribers.
Blurb
On her eighteenth birthday, Lilianna Mayberry survived every woman's worst nightmare.
Sure, she was left with permanent scars and her psyche was shattered, but she's alive.
In fact, she's almost thriving.
Settled into her rebuilt life with her longtime love, Venom, supported by their best friend, Slash, and empowered by the motorcycle club that loves her dearly, Lily has grasped her dreams with both hands and made them her b!tch.
Until the monster from her past returns prematurely, and everything she thought she knew gets turned on its head once again. Her father is up to his old tricks. The Black Shamrocks MC is splintering down the middle. Even her best friend turns out to be less than trustworthy.
Almost five years ago, Lily stood tall against the forces trying to take her down. Her loyalty to the Shamrocks never wavered. She literally bled for their freedom.
So why is she still caught in a web of the Kingsley family's making?
Tempting Fate is the first book in the Duplicity trilogy. Part of Bella Faust's Black Shamrocks MC (Australia) series, this dark, psychological romance is a steamy and taboo tale filled with angst, betrayal, and lust set within a love triangle everyone but Lily saw coming.
The first book in the series, Craving Control, is also available. It should be read before the Duplicity trilogy to best appreciate the overall storyline. This book can be accessed as a welcome gift after subscribing to the Faust 411 reader update or purchased online.
Reader discretion is advised as this story contains potentially triggering content.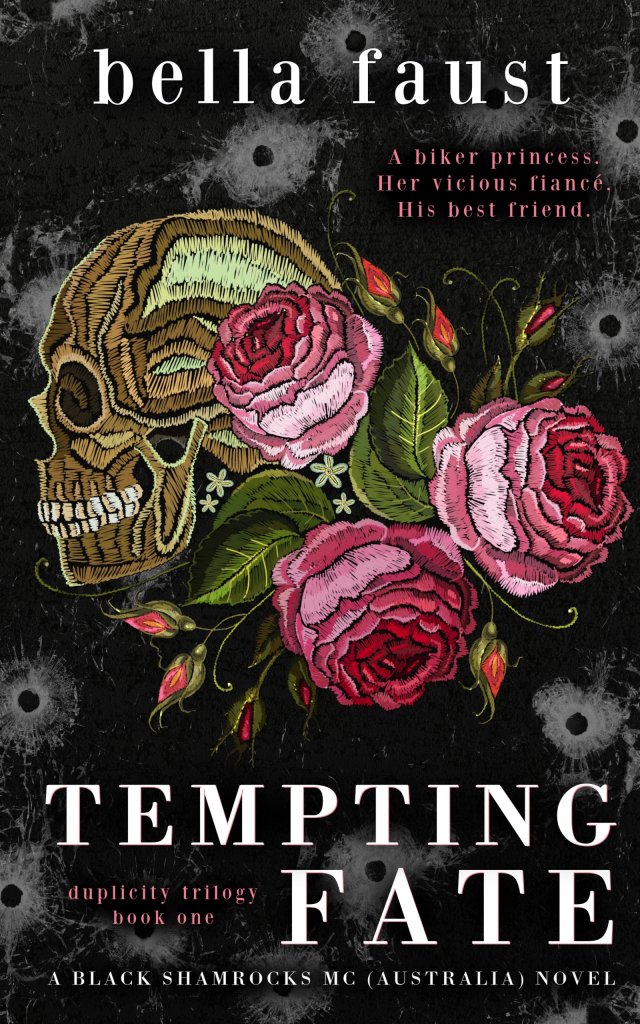 About the author
Bella Faust is the new pen name for dark motorcycle club romance author, Kylie Hillman. After a couple years of personal angst, professional blockage, and some serious health issues, the international and USA Today bestselling author has returned with a darker, angstier, and infinitely more inspirational flavour of dark psychological romance.
Her initial releases as Bella Faust have received praise from reviewers for their "pull-no-punches" storylines and the level of realistic violence, hurt, and heartbreak she puts her characters through. A believer in the power of love when overcoming adversity, Bella's stories come with in-depth trigger warnings and a promise that everything will be alright in the end. Her books are set within one interconnected universe so your favourite characters will pop up frequently in other books.
When she occasionally steps away from her computer to do something other than write, Bella can be found binge watching Netflix, discussing pop culture with her son and daughter, wandering around in the wilderness with her dogs and her husband, or volunteering as a telephone crisis supporter for Lifeline.
After developing a severe allergy to social media and its manufactured outrage, Bella is an unapologetic introvert. While she loves to chat about books with readers, especially her own stories, her revival as an independent publisher was contingent on the protection of her mental health and a degree of anonymity. To directly interact with Bella, please subscribe to
the Faust 411 reader bulletin
, or comment on her posts in the
Faust Fact Files
on her website.
Connect with the author